Thank you for your visit.
You are on this website … chances are you have heard how powerful Neuro Linguistic Programming™ (NLP™) & Hypnosis are, you may have read books or seen videos about it or you may be searching for a life changing experience… whatever the case may be, you will find something useful as you search through our website.
"Here's An Amazing Opportunity that Leads to

Personal Freedom

, Professional

Recognition

& High Income

as a Certified Trainer

"

Click here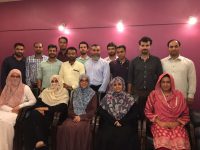 Since 1997, The First Institute of Dynamic Learning has been offering authentic NLP™ & Hypnosis based personal and professional development training programs.
You can join our upcoming 90th batch of Licensed NLP™ Practitioner Certification Training
Our NLP™ training programs are only programs which are recommended by co-founder of NLP™ – Dr. Richard Bandler & his partners. This is why you will find almost everyone who is anyone in NLP™ in Pakistan began with us.
If you are looking for a soft skills NLP™ based training for your team we can design and/or customize any training for your needs. Feel free to contact us for details.