"Explore Simple Solutions To Complex Problems"
Join
CONVERSATIONS
With Kamran Sultan – Master Trainer of NLP™ & Hypnosis, in a small group setting (Online) and experience POSITIVE LASTING CHANGES WITHIN.
What are Conversation Sessions?
These are life coaching sessions in small groups.
In these sessions, you apparently engage in a conversation with Kamran Sultan on a specific topic. (see topics for upcoming sessions below).
Using his expertise in technologies of mind (e.g. NLP™ & Conversational Hypnosis), Kamran will guide you and your unconscious mind to open knots in your thinking and make positive & lasting changes … naturally, easily & almost automatically.
Duration for each conversation session is 90 minutes to 120 minutes. You can attend any or all session you like. These will be Online sessions.
Participants from previous sessions said…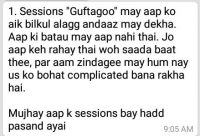 "A Deep Conversation With The Right Person Can Change Your Life"
Investment
Join any one session pay Rs.6,000/-
Join both sessions pay Rs.11,000/-
Timing for sessions will be from 3:30 pm to 5:30 pm Pakistan time.
[WPSM_COLORBOX id=297]
How to Register?
In Pakistan, you can pay in any branch of Meezan Bank ltd. Select the session(s) you want to join. Send your name and conversation topic(s) in a message on What's app to +92-300-2198031 and we will send you account details.
If you are outside Pakistan, what's app your name and conversation topic(s) you want to join. We will send you payment options.
Once registered, you will get link to sign up for Online Session. You will get recording of your session.