"DISCOVER HOW TO ACHIEVE YOUR PERSONAL BEST, OVERCOME YOUR LIMITATIONS & MAXIMIZE YOUR POTENTIAL"
JOIN
LICENSED NLP™ PRACTITIONER TRAINING
With
Kamran Sultan – Licensed Master Trainer of NLP™ (recommended by Dr.Richard Bandler co-founder of NLP™) in his 83rd NLP™ Practitioner course since 2001.
NLP™ has been described as the science of success and achievement simply because NLP™ is a powerful & proven program for making lasting changes in human performance & maximizing capabilities.
Our NLP™ training has been known to empowers people like you with the ability to change or eliminate un-resourceful behaviors, perform at their best, acquire emotional freedom, attain leadership, self-confidence & cooperation from others.
This is why our NLP™ courses are the ONLY NLP™ courses in Pakistan recommended by the co-founder of NLP™ Dr. Richard Bandler and his partners.
Our NLP™ certification training includes state of the art communication models that reveal the hidden patterns within any communication and how to respond with influence, persuasiveness, eloquence and insight.
During this NLP™ Practitioner course you are immersed in the NLP™ process as you learn how to…
What will you learn in our NLP™ program?
Master your emotions and run your own brain
Easily create instant motivation and confidence
Develop greater acceptance of your message in all areas of life
Masterfully use language to your advantage
Become a more powerful communication
Develop keen observation skills
Make your unconscious mind your best friend
Activate & align your internal resources to achieve success
Instantly make people like and trust you
Quickly change unwanted feelings and behaviors
Release negative emotions quickly
Hypnotize others
Overcome limiting behaviors e.g. fears, phobias
and much more
"You could spend next many years of your life in reading NLP™ books and listen to audios, or attend self improvement seminars, BUT you will not get even a penny's worth of skills that you will develop in this  NLP™ training"
What topic are covered in our NLP™ Practitioner Training?
Our NLP™ training includes linguistic models that reveal the hidden patterns within communication and how to respond with influence, persuasiveness, eloquence and insight. Here is a brief description of what is covered in this program.
Opening your senses

Empowering beliefs (Presuppositions) of NLP™
Set & achieve goals
Skills to build strong relationships – the key to influence and persuasion
Representational Systems
Submodalities – Learn to take control of your brain
Using language with awareness, elegance and precision
Anchoring – the power of controlling emotional states
Strategies – the unconscious processes we use to create all our behavior
Utilizing Time Based Techniques
Altered states of consciousness
NLP™ techniques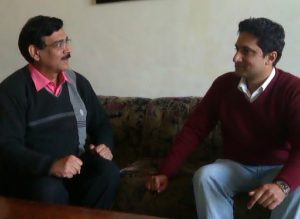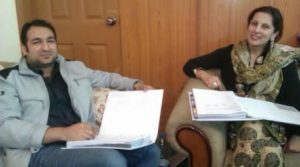 Why join our NLP™ training?
We can say, because our training is the only NLP™ training in Pakistan recommended by Dr.Richard Bandler – co-founder of NLP™ but that may not be your reasons you may want to join our NLP™ training because it adds more value to every aspect of your life and enhances your effectiveness in ways that will delightfully surprise you.
PLUS you may join because…
+ You learn NLP™ with Pakistan's most experienced and only Master Trainer of NLP™ who has conducted Licensed NLP™ practitioner courses over 81 times, in Pakistan and abroad.
+ You learn NLP™ skills, attitudes not just a bunch of techniques.
+ You get depth of knowledge & breath of NLP™ information.
+ You experience personal transformation and learn how to transform others too.
+ You learn core NLP™ principles in the light of Al Quran & Sahih Hadiths.
+ You get GENUINE license and certification from co-founder of NLP™.
+ You learn practical applications of NLP™ in many areas of your life.
How is the training structured?
More than 70% training is experiential with hands on exercises, demonstrations, informative discussions and little lecture.
You will be engaged in doing NLP™ from the beginning such that most of these NLP™ skills will be ingrained in you by the end of the course.
How can you use NLP™?
You can use NLP in any area of your life you choose. In this program you will learn practical applications of NLP™ in …
Business (Negotiations, Sales & Marketing)

Teaching, Education & Learning
Training & development
Therapy
Personal Development
Parenting
Coaching
"When you wear a good perfume, you as well as people around you enjoy the benefits. Practicing NLP™ is like wearing the best perfume you can have" –

Kamran Sultan 
What if you join this training?
Use your own imagination here because you know better, where you can use these skills in your life. Chances are like millions of people around the world you will create the life you want and transform your life and lives of many other people with your NLP™ skills. Countless people have reported that using these skills they are able to…
Increased earning potentials
More fulfilling relationships
Much higher creativity
Better physical health & higher energy
Increased self control
Enriched job satisfaction
Increased work efficiency
Ability to easily cope life's challenges
Ability to motivate self and others
Clarity of thinking
A purposeful life
Is this training for those who want to train others?
No. The NLP™ Practitioner is the first level of training in NLP™.  This training is for people who want to acquire NLP™ skills and want to use NLP™ in making pleasant changes in their lives and help others.
Certification from Dr. Richard Bandler & Society of NLP™ (USA)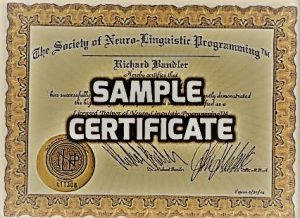 Our NLP™ courses are the first NLP™ courses in Pakistan, Licensed by Dr. Richard Bandler & Society of NLP.
Your NLP™ certificate will be jointly signed personally by Dr. Richard Bandler – co-founder of NLP™, John LaValle – President of Society of NLP™ & Kamran Sultan – Master Trainer of NLP™.
Needless to say this is the most prestigious certification in NLP™ in the world.
Trainer's Profile: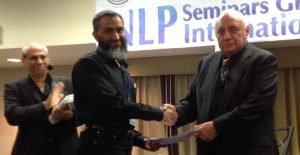 Kamran Sultan is Pakistan's first & only Licensed Master Trainer of NLP™, who is licensed & recommended by
Dr. Richard Bandler (Co-founder Of NLP™).
Since 1997, Kamran has trained people from all walks of life in NLP™ & Hypnosis over 33,000 hours including Licensed NLP™ practitioner training 82 times and Licensed NLP™ Master Practitioner training 33 times.
Kamran's NLP™ courses are recommended by none other than the co-founder of NLP™ Dr.Richard Bandler & his partners.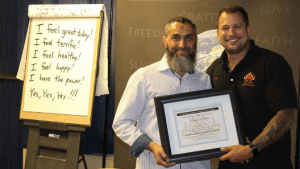 Kamran is a Strategic Intervention coach as well as a  Firewalk Instructor, Certified Instructor of Hypnosis & Country Supervisor for Jose Silva's UltraMind training in Pakistan.
Kamran has received his own training in UK and USA from some of the best NLP™, Hypnosis & Silva UltraMind trainers including Dr.Richard Bandler (Creator of NLP™), Anthony Robbins, John LaValle, Joseph Riggio, Paul McKenna, Rich Litvin, Magali Pesha, Jo White, Julie Silverthorn, Russell Potts, Jo Cooper, Peter Seal, Alex G. Silva and several others. To learn more click here
Program Details:
Dates:
Sept. 22 to Sept.28, 2018 (Saturday to Friday)
Class time:
10 am to 8 pm each day (with breaks)
Venue:
The First Institute of Dynamic Learning
Ground floor, 90-A, Block 2, P.E.C.H.S, Karachi-75400, Pakistan
Investment:
Rs.149,997/- (Including Society of NLP™ Certification, Course material, meals)
Early Registration Discount:
– Register by Jul. 31st and SAVE Rs.30000/- Pay Rs.119,997 Only 
– Register by . Aug.25th and SAVE Rs.20000/- Pay Rs.129,997 Only
– Register by Sep. 10 and SAVE Rs.15000/- Pay Rs.134,997 Only
Register Now & Start Learning Today
As you register we will share with you day 1 videos from NLP™ Practitioner Training videos & PLUS Hypnosis Training videos absolutely FREE. 
Watch these videos before you come to class and you will be way ahead in your learning these amazing technologies.
How to register and pay your fees?
It's very simple and easy & there are several options. Select the one that suits you most.
i) You can visit our office (in Karachi only) and pay or
ii) You can pay in any branch of Meezan bank Ltd near you.
iii) You can transfer online or via ATM to our Meezan Bank account.
Please Call on 0300-2198031 or 021-34552392 before you visit our office.
If you take either option (ii) or (iii) send a message on What's app or SMS on 0300-2198031 and we will forward you account details.
For any other information
email us
 or call 0300-2198031 during working hours.