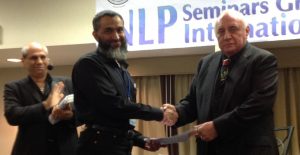 Kamran Sultan is Pakistan's first Licensed Master Trainer of Neuro-Linguistic Programming (NLP™) for Society of NLP™ (USA).
Since 1997, Kamran has trained others in NLP™ & Hypnosis over 34000 hours
Additionally Kamran is a Certified FireWalk Instructor, Country Supervisor for Jose Silva's UltraMind Training and ESP Course Instructor for Pakistan.
He is also a Certified Instructor of Hypnosis and a Certified Clinical Hypnotherapist.
Kamran has received his own training in UK and USA from some of the best NLP™, Hypnosis & Silva UltraMind trainers including Dr.Richard Bandler (Creator of NLP™), Anthony Robbins, John LaValle, Joseph Riggio, Paul McKenna, Joe White, Julie Silverthorn, Russell Potts, Jo Cooper, Peter Seal, Alex G. Silva and several others.
In addition to business studies from IBA, Kamran has over 10 years experience in direct selling.
In 2019 Kamran moved to New Jersey, USA where he lives with his wife and children. He teaches several online courses and travels internationally to conducts various seminars & workshops.
As a performance enhancement life coach, since 1997 each year Kamran sees as many people as he can individually and assists them to create what they want in their lives.
Kamran is available for 1 to 1 life coaching through prior appointment. To learn more click here