"Announcing An Amazing Opportunity that Leads to Personal Freedom, Professional Recognition & High Income"
Join


Online Home Study Course
With
Kamran Sultan – Licensed Master Trainer of NLP™ & Hypnosis
Be A Trance-formative Trainer
Imagine being able to walk into a room full of people and weaving trances with words that transform your audiences.
That's what you do as a trainer when you learn to apply NLP™ & Hypnosis in your training programs & presentations.
Whether you are a seasoned trainer or some one who is just starting as a trainer you can learn & apply powerful NLP™ & Hypnosis techniques that enhance your charisma, transform your presence & lives of people you come in contact with.
What does it take to be a transformative trainer?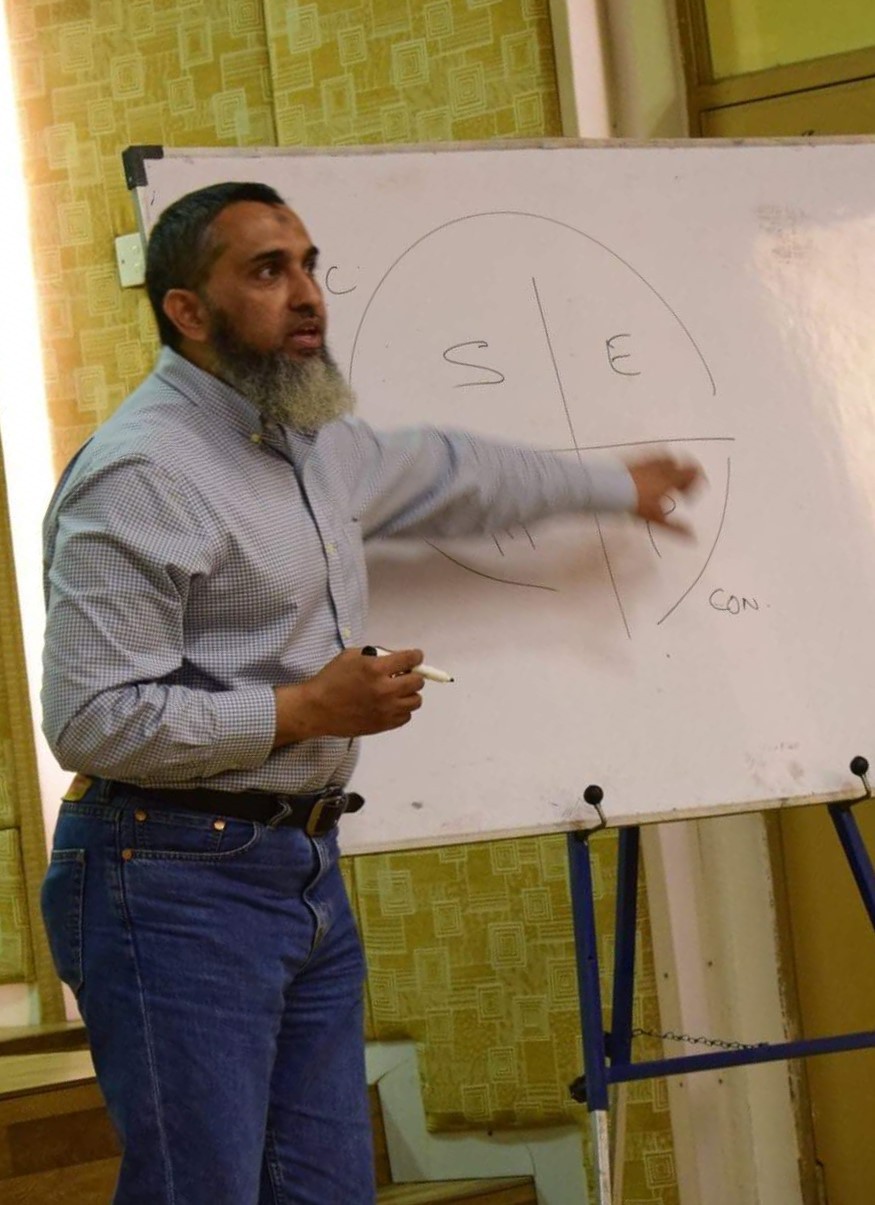 Creating a transformative training experience requires that you are able to demonstrate what you teach, covertly and overtly.
In other words, 'Walk your talk'
Being successful as a trainer requires certain key skills that you need to learn. You must be willing to do whatever it takes to succeed.
If you are already a trainer, learning & applying these powerful skills will enable you to take your training to a much higher level and
add magic & spark to your presentation
.
The course is designed to help you develop skills to be an outstanding trainer who can teach at multiple levels & create magical results.
Kamran Sultan recently conducted this amazing program, you too can now take complete recording of this program and learn these powerful skills while getting coaching & mentoring directly from Kamran Sultan.
Join this course and discover the 3 secrets all NLP™ & Hypnosis trainer's share BUT they won't tell you.
How to plant your self on stage for maximum impact? 

How to make everyone feel as if you are speaking to them?
How to control your listener's emotions?
Additionally you will learn how to…
Overcome your fear of public speaking
Be fearless, calm, balanced and centered quickly

Utilize NLP™ & Hypnosis in training

Engage both minds of your students
Create a trance-formative training context
Control your emotional states with ease
Control your audience's emotional states
Capture your audience's attention & keep it
Communicate using multiple channels simultaneously
Congruently deliver your message
Connect with your audience easily
Entertain your audience & add fun to your presentations
Use multiple embedded metaphors while you teach
Increase impact of your communication
Handle difficult people (hecklers) easily
Develop a powerful voice
Use effective voice modulation
That's not all… You will also learn how to…
Make your training run smoothly
Do & teach indirect and direct hypnotic induction
Do a group induction (overtly & covertly)
Select demonstration subjects
Design a training program
Involve a mixed audience of lay people & professionals
Structure a result oriented training
Teach any introductory class
Conduct a hypnosis practitioner certification course

Create online courses
Deliver powerful online classes
and a lot more
"Even thought this is a Hypnosis trainer's certification training, skills you learn are not limited to teaching hypnosis… with these skills you can make any training magical"  

Why become a hypnosis trainer ?
You may have your own reasons to become a trainer, here are some reasons why many people do it…
As a trainer you work for yourself, as much as you want and earn a very high income. 
Growth Opportunity:
Training is a BIG business, there are very few good hypnosis trainers
High Income potential:
There are huge un-tapped markets, with unlimited business potential in the industry.
Respect & Recognition:
Hypnosis trainers are looked upon as authority and with respect.
Ability to help others achieve their goals:
As a hypnosis trainer you are able to help people learn hypnosis in a safe manner and create positive changes in their lives & lives of people in their lives.
When you sign-up you will get access to our Hypnosis Practitioner Course. Over 10 sessions of about 2& 1/2 to 3 hours each, you will develop your foundations in Hypnosis & NLP. In this amazing program you will learn material that you will be teaching in your hypnosis classes.
Then you will go through Charismatic Trainer Training material. Over 12 sessions
you will learn & hone your platform skills, presentation skills, training design & marketing learn business development secrets to establish your training business.
In short, you will learn everything you need to get started immediately.
Throughout this training you will be engaged both consciously & unconsciously to practice teaching & doing demonstrations.
You will receive comprehensive supplementary material which will provide you detailed information prepared for your immediate use.
All of these will add to your authority and expertise as a Certified Trainer of Hypnosis.
This program is for anyone who wants to learn to use state of the art training skills.
Get Started Immediately …
We want you to begin to get maximum return out of your investment with us. To help you get started immediately we will provide you course material & outlines of two training programs…
1. Hypnosis Practitioner Training – You will receive complete Hypnosis Practitioner training material which you can simply duplicate and start teaching your classes. (Worth $297/-)
2. Mind Power Training

– You will get complete outline, with little effort you can put in your content and have your first self created program ready for you (Worth $250).
BONUS: Get one to one coaching (Worth $1300)
Sign up for this life changing program and get 3 one to one Life Coaching & Mentoring sessions with Kamran Sultan. You can use these sessions to work through any personal or professional issues.
Since 1997, Kamran has trained people from all walks of life in NLP™ & Hypnosis over 35,000 hours including Licensed NLP™ practitioner training 89 times and Licensed NLP™ Master Practitioner training 37 times.
Kamran's NLP™ courses are recommended by none other than the co-founder of NLP™ Dr. Richard Bandler& his partners.
Kamran is a Strategic Intervention coach as well as a  Firewalk Instructor, Certified Instructor of Hypnosis & Country Supervisor for Jose Silva's UltraMind training in Pakistan.
Kamran has received his own training in UK and USA from some of the best NLP™, Hypnosis & Silva UltraMind trainers including Dr.Richard Bandler (Creator of NLP™), Anthony Robbins, John LaValle, Joseph Riggio, Paul McKenna, Rich Litvin, Magali Pesha, Jo White, Julie Silverthorn, Russell Potts, Jo Cooper, Peter Seal, Alex G. Silva and several others. To learn more click here
Program Detail:
Participants who attended this program live invested upt0 US$ 1497 (Or Rs.239,997/-) – Including certification from The First Institute of Dynamic Learning, LLC (USA)
However you can SAVE US$500 Pay $997/- (Or PKR.159,997) 
Do you realize you can recover your investment by conducting just 2 Hypnosis Practitioner classes with 5 students only paying you $100 each?
How to register and pay your fees?
It's very simple and easy & there are several options. Select the one that suits you most.
ii) You can pay in any branch of Meezan bank Ltd near you.
iii) You can transfer online or via ATM to our Meezan Bank account.
If you take either option (ii) or (iii) send a message on WhatsApp on  +92-300-2198031 and we will forward you account details.