"Master Your Mind, Master Your Life & Accelerate Your Growth With NLP™"
Society of NLP™ (USA)
Licensed NLP™ Master Practitioner

Certification Training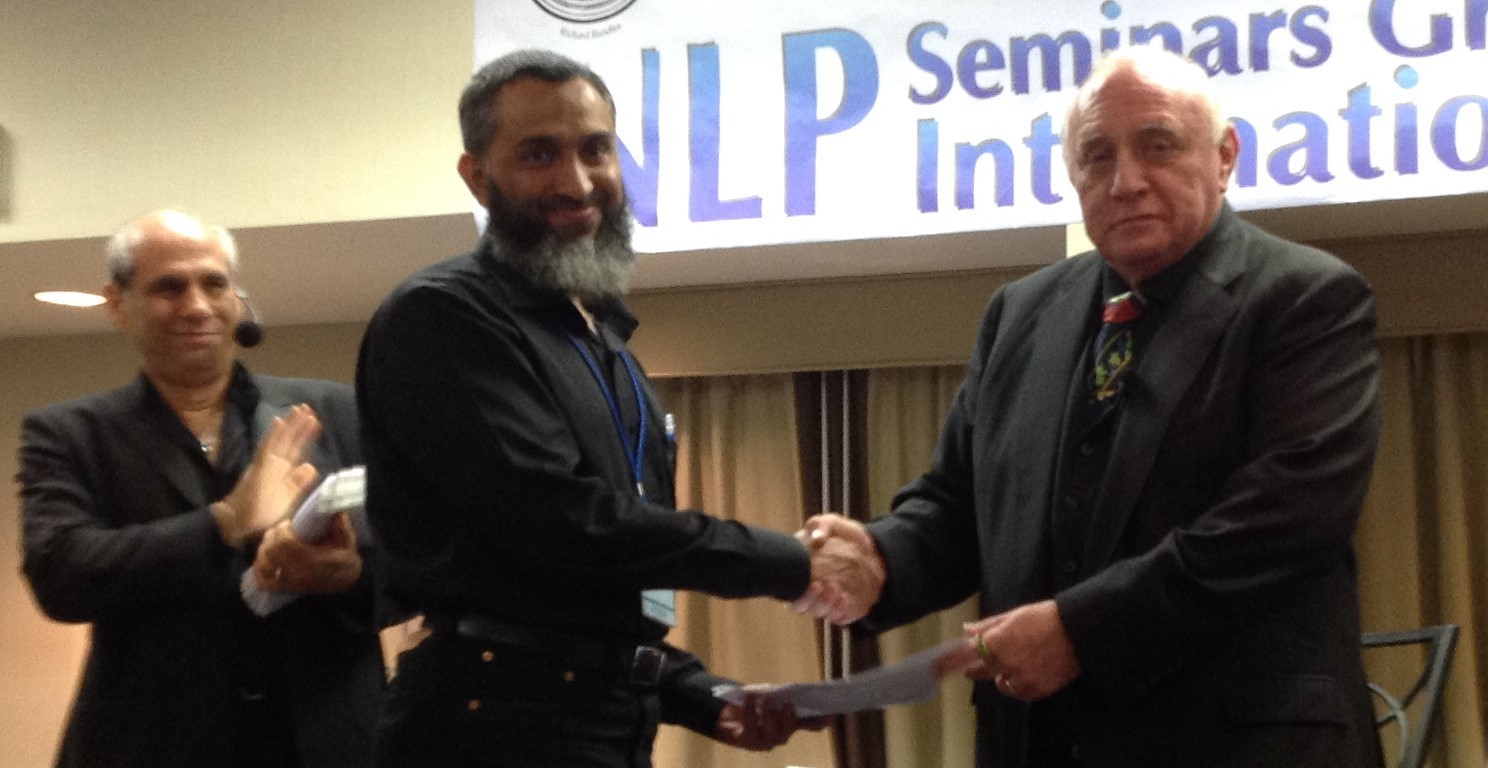 Kamran Sultan – Licensed Master Trainer of NLP™ (recommended by Dr.Richard Bandler co-founder of NLP™) in his 40th Licensed NLP™ Master Practitioner course since 2001.
in Karachi (See details below)
Get ready to go deeper in NLP™ as you learn advanced NLP™ skills & techniques to make you more effective and proficient in all areas of your life.
Learning and mastering NLP™ skills help you …
Master your ability to control your own mind and emotions 

Master your communication skills to get desired effects with others
Master your skills for personal & professional growth and help others grow
Master your life!
Perhaps you know, NLP™ is based on premise that, "If one person can do something we can find how s/he does it and teach it to whoever wants to learn it".
This is what is called 'Modeling' in NLP™.
Modeling not only saves many important years of your life, (otherwise wasted in trail & error) it also accelerates your growth & learning.
You will learn NLP™ Modeling skills in this course.
What will you learn?
In this NLP™ training you will learn how to…
1). Model excellence with NLP™
Modeling is the core of NLP™.  The purpose of modeling is not to become a poor copy of someone but to be the best you can be. It speeds up learning and growth in every area of your life. In this program you will learn…NLP Master Practitioner
What is modeling

Levels of modeling
Behavioral modeling
Who to model?
What to observe?
Levels of complexity
Refining the model
Modeling methodology
Acquiring the model
Perspectives in modeling
Implicit and explicit modeling
Installing the model
2). Utilize powerful language patterns elegantly
Mastering language is the key to success. Understanding how language works, gives you immense power over to direct other peoples thinking.
Meta Model
How meta model works
Meta Model III – Directed questioning
Identifying presuppositions
Milton model
Milton model patterns
Natural language presuppositions
Advanced language patterns
Simple & complex presuppositions
Pre-suppositional distinctions
Temporal language patterns
Representational language
Shifting logical level
Semantic density
3). Use NLP™ patterns to help others change pleasantly
Decision destroyer patterns

De-Identification pattern
Working with & using logical levels
4). Utilize sub-modalities patterns masterfully
Submodalities are the building blocks of your inner world. Using them with finesse makes you a master of your own brain and empowers you with ability to immensely help others.
Allergy cure process
Compulsion blowout
Phobia cure process
5). Use advanced re-framing techniques
Re-framing is a powerful way to see several other perspectives on the same issue. Mastering them empowers you to turn around any objection. This is a powerful addition to your arsenal of communication skills.
Subtle linguistic re-patterning 

Sequential phrasing
Sleight of mouth
6). Use advanced anchoring techniques
Anchoring is the process of utilizing and controlling emotional states within yourself as well as in others.
Covert elicitation of state

Conversational state elicitation
Stage anchoring
7). Advanced time line techniques
Time lines are your brains way of encoding past, present and future events. Using time based techniques you can make lasting changes in minutes. Changing time lines can cause complete shifts in a persons behavior.
Elicitation & utilization of time lines

Programming goals using time lines
Shifting time lines
Changing personal history using timelines
8). Meta programs
Meta Programs are the processing filters of human mind. Knowing them empowers you to predict people's behavior and motivate them.
Eliciting meta programs

Utilizing meta programs
9). Understand belief & values systems
If you believe you can, you can; If you believe you can, you won't. Your beliefs can make or break you. In this program you will learn…
Types of beliefs

Identify limiting beliefs
Pitfalls in identifying beliefs
Types of causes
Belief audit process
Belief out-frame pattern
Changing beliefs
Directionalization
VALUES are the compass that determine the direction of your life.
Knowing your values, resolving conflicts in values, and aligning your values gives your life motivation, direction and clarity.
In this program you will learn…
Elicitation of values

Stages in values formation
Conflicts in values
Sources of values
Identifying in-congruence
Values change process
10). Develop exquisite calibration skills
When you pay close attention you will notice how people communicate through every pore of their being. Noticing and utilizing the subtle shifts people unconsciously make is a key skill in successful change work.
In this program you will learn…
Paying attention to non verbal cues

Identifying patterns
11). Use NLP™ in coaching & counseling
Coaching is a rapidly growing field. NLP™ coaching is about not only making changes but also continuous improvement in life.
In this program you will learn…Students
What is coaching

3 Key questions in coaching
Defining goals for coaching session
Model for conversational change
How to conduct a personal breakthrough (coaching) session
12). Strategies of thinking
Strategies are sets and sequences of internal processes and external behaviors intended to attain particular behavioral outcomes. They are a key element in modeling.
In this program you will learn…
Elicitation of strategy

Utilization of strategy
Changing strategies
Installation of strategies
How do you learn all of this?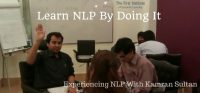 NLP™ is an experience, you learn it by experiencing it.
This will be an in-depth LIVE ONLINE Training.
As soon as you sign up, you will get 6 months access to the recording of our previous NLP™ Master Practitioner Certification training. This will help you prepare before class and review after program is over.
Before you join live classes (on Dec. 30 – schedule below), watch just first 3 sessions. These sessions will prepare you well, help you in accelerating your learning while building a more solid foundation in NLP™
When you come to class, you will be trained, mentored and coached in developing the mindset & skills to become a successful Practitioner of NLP™.
You will have 10 LIVE ONLINE sessions with Kamran Sultan over 5 weekends. Duration of each session will be about 4 hours
In each session you will learn and deepen your understanding of life, self and others. You will go through group activities and hands on exercises to develop your skills as a Licensed Master Practitioner of NLP™. 
Each week you will be assigned tasks to do to develop your skills. 
More than 70% live sessions will be experiential with hands on exercises, demonstrations, informative discussions and little lecture.
You will be engaged in doing NLP™ from the beginning such that most of these NLP™ skills will be ingrained in you by the end of the course.
After completion of program, you will get one group coaching and mentoring session each month for next six months. This will be your opportunity to share your experiences, ask questions and continue to develop your skills.
Since you will have access to previous program's recording up to six months, you'll have ample time to revise your learning at least 3 times. 
Duration of your training, including the preparation videos will be over 130 hours.
Most prestigious NLP™ Certificate: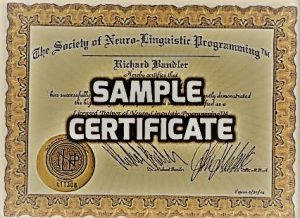 Society of NLP™ (USA) and Dr. Richard Bandler – co-founder of NLP™ will grant your NLP™ Master Practitioner certificate.
Your certificate will be jointly signed in ink personally by Dr. Richard Bandler, John La Valle (President of Society of NLP™) and Kamran Sultan. 
Needless to say, this is
the most prestigious and authentic

NLP™ Master Practitioner

certificate
in the NLP™ world.
Who is a Master Practitioner?
A Master Practitioner is master of useful ways of communicating & persuading others which means s/he has the behavioral flexibility and attitudes that produce specific results with self and others.
BONUS # 1: Join Now and Get

NLP™

Home Study Course (worth $297) FREE
With this program you can brush up your basics & revise your
NLP™
practitioner material as you move to an advanced level.
BONUS # 2: Two Workshop Material (Priceless) FREE
Many of our students start offering short courses after taking our NLP™ training. To make it easier for you we give you complete material of two of our short training programs.
1.) Multiply Your Income  & 2.) Speed Reading Training
Program Detail:
Dates:
Dates & Days: 
Week # 01: Dec. 27-31, 2021 (Mon.-Fri.) 
Week # 02: Jan.03-07, 2022 (Mon.-Fri.)
Week # 03: Jan 10-14, 2022 (Mon.-Fri.)
Week # 04: Jan 17-21, 2022 (Mon.-Fri.)
Week # 05: Jan 24-28, 2022 (Mon-Fri)
Class time:
7:30 pm to 10 pm each day (Pakistan Standard Time)
Venue:
LIVE Online over Zoom
Investment: 
US$1497/- (Including course material, certification & meals)
Early Registration Discount:
Discount is date-wise. Which means sooner you register, more you will save. 
– Register by Nov. 10  and SAVE US$ 200/– Pay US$1297/-
– Register by Nov. 10th and SAVE US$ 200/- Pay US$1297 Only
– Register by Nov.15th and SAVE US$ 100/- Pay US$1397 Only
How to register and pay your fees?
It's very simple and easy as there are many ways.
i) You can go to our online registration site, sign up and pay via your debit/credit card and get instant access to NLP™ Home Study Video course & Hypnosis Online Course.
To avail early registration discount, apply the discount code master2020 before check out. This code is valid till Nov. 10th, 2020
ii) You can transfer using online banking or ATM or visit any branch Meezan Bank Ltd., near you.
When you go for payment, Call or SMS or WhatsApp us on +92-300-2198031, and we will send you account details.
Your payment will be made to, "The First Institute of Dynamic Learning"